Richard Chell -- Lifetime Member Honoured at the May 2013 Luncheon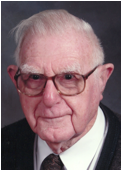 We are pleased to welcome Richard (Dick) Chell as a lifetime member of the Langley Retired Teachers' Association. 
Dick was born in 1927 in New Westminster, BC.  When asked what made him decide to become a teacher, he said that, 'It must have been in my blood."  His father and his brother were both teachers. He met his wife, Betty Lou (who became a primary teacher), at normal school.  Their older daughter has her R.N., and her BScN.  She taught nursing for a while in Prince George and did enjoy it, but she needed her Masters to continue, so she returned to active nursing.  Their older son is chairman of the Revelstoke School Board, and their younger son and daughter both have teaching degrees.  The desire to teach has filtered down to the next generation with one grand-daughter teaching in the Langley School District, another teaching pre-school, and a third contemplating teaching at the college level.
Dick attended UBC, where he received his Bachelor of Arts degree. After normal school, he took his first teaching assignment in Oliver, where he taught grade 7 general studies in a Grade 7-12 school.  After one year of teaching in Oliver, he moved to Langley, where he was to spend the next 34 years of his teaching career.  Dick spent many evenings and summer holidays going back to UBC to obtain first, his Bachelor of Education and finally, his Masters in Education at Western Washington.   He specialized in Math, Science, and eventually working in the Learning Assistance department, where he worked with the occupational classes.  He was the district coordinator of the program, and coordinated the 'work experience' program in three of the high schools (Langley Secondary, Aldergrove Secondary and Fort Langley Secondary).   His teaching career in Langley began at Langley Secondary School. He, then, moved on to Aldergrove Secondary the year it first opened.  After spending some time back at LSS, he finished his teaching career at H.D. Stafford Secondary, where he retired in 1985.
When Dick first started teaching, he remembers the hassle of balancing the class register.  Not only was it difficult to count through all of the x's and half strokes to mark those present (they switched to marking only absences, the year he retired), but if your register didn't balance at the end of the month, you didn't get paid until it did!!
Something else that Dick remembers is the DMS (divisional mark sheets) in which all marks for all subjects of all of the students in the class had to be recorded and then submitted to the office.  He wonders if anyone EVER looked at them, after they were handed in.  It was definitely a lot of work!!
Dick mentioned that the change in the dress code for both students and staff members was a bit disappointing.  He remembers that, in the earlier years (and for him personally) male teachers were expected to wear a suit jacket and pants, along with a crisply ironed shirt and tie. 
Over the years, Dick noticed the change in the behaviour of the students as the years progressed – definitely a reflection on the changing society.  At first, the occupational classes were successful in training students with lesser academic abilities for some kind of trade, which would allow them to be contributors to society.  However, as the years progressed, the occupational classes seemed to become a dumping ground for behaviour students.
Like many of us, Dick taught at the same school as his children attended.  He related an incident concerning one of his daughters.  She had gone to the office at the beginning of one of the semesters to request a change in Math blocks.  When asked why, she said that she would have a difficult time getting along with the teacher.  He was her dad! 
One incident that Betty Lou related was the incident where Dick caught their daughter skipping class.  After having a word with her, he ended with 'What happens at school, stays at school.'  Apparently Betty Lou never found out about the incident until their daughter related it to her many years later after she had become an adult.
When asked about former students, Dick related the fact that, recently, two different people, who were visiting parents in the residence where he now lives, immediately recognized him, even though they remembered him with red hair.  He has also met many students who have told of the positive influence he has had on their lives.
One of the challenges that Dick found in teaching was the advent of technology.  He found that, at his age, it was not something that he wanted to add to his bag of tricks.  He noted, "The kids always knew more about them than their teachers!"
Dick has been involved in many volunteer positions, before and after he retired in 1985.  These include: 
-  president of the Langley Teachers' Association
-  treasurer of the Langley Retired Teachers' Association
- volunteer work in the community – enjoying the honour of being named Langley Citizen of the Year in 1993
- driver for the cancer society, as well as holding positions of secretary and president in that organization
-chairman of the Orangewood strata council
-active in Sharon United Church, serving on the executive and chairing the Board
- president of the Square Dancing club
- the only male docent at the Langley Centennial Museum
Dick has contributed in many ways to the future of impressionable students and has held many important positions during his career and after retirement,  and we are pleased to honour him on this special occasion.  Congratulations on becoming a lifetime member of the Langley Retired Teachers' Association!