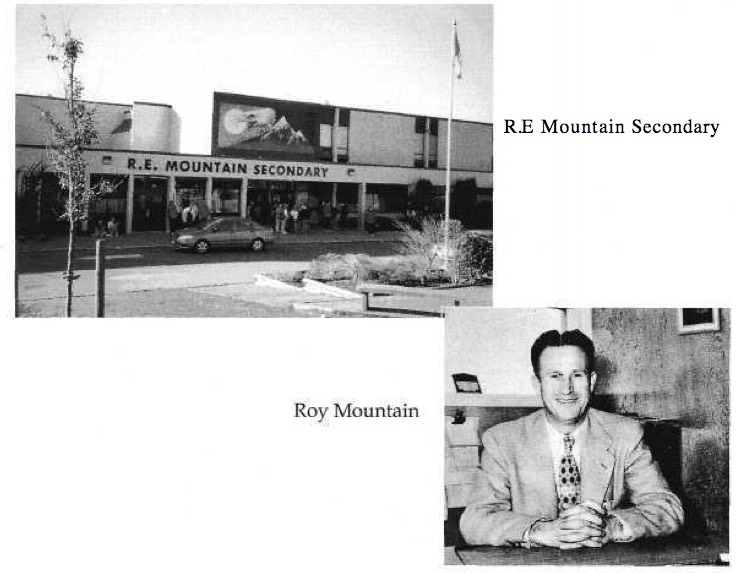 Planning and construction for "Willoughby" Secondary began in late 1975/early 1976, based on the Phillips-Barrett plan used previously for D. W. Poppy and Brookswood Schools in Langley. The final completion was in February, 1977. At that time, the name was changed to R. E. Mountain Secondary, in recognition of Roy Mountain, an educator of some 40 years in Langley. 
Roy Edward Mountain (1907-1975) was born in Halifax, grew up in Milner, attended Milner School and then Belmont Superior from grades 2-8, followed by then Langley High School which was set up in two rooms in Milner in 1922. He graduated in a group of 12 in 1924 and attended Normal School in 1925-6. In 1926-7 he taught school in Princeton, and then spent 44 years in various Langley schools, including Sperling Elementary, Milner Elementary, and County Line Elementary. In 1940, he led a Langley Teachers' Association fight for better salaries. After a strike, the School Board shifted all the leaders to other schools, but some refused to move, resulting in great confusion. The provincial government appointed a trustee, Mr. Calvert, to run the District in place of the School Board. The Association got its first contract in 1946. In 1941, Roy Mountain moved to Langley High School where he taught social studies and agriculture. He became vice principal in 1947, and then in 1950 became principal of the new Langley High School which had been built on 56 Avenue and opened in 1949. He retired in 1971, spent a year at the Board office, and died on September 9,1975. He was active in the Langley Teachers' Association and was elected president for 2 terms (1932-3 and 1936-7). He was also on the board of directors of the Teachers' Co-op and Teachers' Credit Union. For many years the school was called "Mountain Secondary," but in 2001 the School Board directed the district to return to the original name of R. E. Mountain Secondary. 
The school is built on 15 Acres (6.07 hectares) and is of pre-cast concrete construction. The windows are aluminium, and the roof is asphalt and gravel. Hot water heating is used, and the water supply uses a 3" Rockwell meter with remote reader. There is a large effluent lift station to pump waste to a sewer three blocks away. Irrigation water is supplied from an old school well located on the south side by the tennis courts. There is a galvanized chain link fence, two parking lots, four tennis courts, and three playing fields (one irrigated). 
When it was built in 1977, the school's location on 7755-202A Street was believed to be the next major growth area of Langley. Subsequent growth in the Walnut Grove area proved this assumption wrong, so the school remained one of the smallest secondary schools in Langley. In order to get enough students to fill the school, its initial boundaries extended to the Murrayville and Walnut Grove areas. Growth in the Willoughby area is now a reality—in 2004! 
The school was established as a junior/ senior secondary, reflecting the change of philosophy that later was to extend to the junior secondaries of D. W. Poppy, Brookswood, H. D. Stafford, and Fort Junior. However, for financial and enrolment reasons Mountain was constructed as a "junior high". 
In its first year, Mountain had about 480 students, grades 8 to 11. They were on shift at Fort Langley Junior Secondary until February, 1977. The following year there were 581 students, grades 8 to 12. Over the next 4 years the school grew to its capacity of 625 students. When the boundaries were shrunk considerably, the school benefited from a large number of cross-boundary and Surrey students, which in some years made up over 45% of the school population. In 2002, 587 students were enrolled. 
In 1988, the west wing was built to include industrial education shops, and in 1990 a band room, library, and east wing were added. At present the school has 12 standard classrooms, 5 science rooms, 2 home economics rooms, 4 shops, a gym, library, cafeteria, 2 drafting rooms, a typing room, 4 rooms for the hearing impaired program, an art room, a music room, 3 computer rooms, a special education room, 3 business rooms, and a greenhouse for the horticulture program. 
The first principal was Mike Baker (1976-1982) who was hired to the district on April 1, 1976, to do the equipping and staffing of the new school. The vice principals, Dan Peebles and Ted Akune, were "half-time," an arrangement that was unique to Langley at that time. 
There were 23 teachers, 2 secretaries, a library-technician, and a female day janitor, which also was unique for high schools of the time. Staff dedicated long hours to the creation of a new school, with a rich offering of curricular and extra-curricular activities for its students. 
Since the building was essentially a "junior high," the decision was made to focus on academic programs, with the philosophy of "doing a few things well". The academic focus, enhanced with programs such as the International Baccalaureate Program, has made R. E. Mountain somewhat of a magnet school. In its first six years, for example, there were 23 winners of the prestigious Gordon Shrum $12,000 scholarships. 
While the stated curricular focus may have been academic, the school has other strengths brought out by the talents of its students. There is a strong music program, particularly in musical theatre, where the staff and students put on a major production every two years. Some recent shows include South Pacific, The King and I, and Sound of Music. Some years, over 40% of the students are involved in some aspect of the musical theatre production. 
Mountain also is surprisingly strong and diverse in athletics for a small school. Many of its teams have attained provincial standings. 
A strong horticulture program existed for many years, with a plant sale being held every April. 
R. E. Mountain students are very active in global activities with yearly overseas trips to places like Paris and Greece. In 2002-3,70 international students from all over the world were enrolled. 
The school population in 2004 is 641 plus 84 international students. 
The school has a unique Deaf and Hard of Hearing Program with 20 students enrolled in 2002-3. They receive complete services needed to participate in all programs at R. E. Mountain. Many other students are enrolled in the sign language courses which are offered. 
R. E. Mountain is also part of the Langley Teachers Education Program with UBC student teachers. The goal is to make integration of student teachers as smooth and coordinated as possible. 
Principals over the years: 
Mike Baker 1976 -1982, 
Cam Gesy 1983 -1989, 
Percy Pavey   1990 -1993,  
Jim Kettlewell 1994 -1997, 
Bob Goertz 1998 - 2001, Charlie Etchell 2002 - 2004, Dave Michel    2004-
R. E. Mountain continues to strive to live up to its motto: "Our classroom is the world; our students are world class".