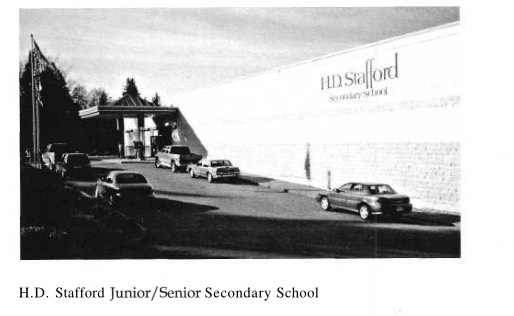 H. D. Stafford Junior High School was built on the site of the former Pleasantdale Dahlia Farm on Grade Crescent, where the V. V. & E. Railway had run in the early part of the 20th century. 
Frank W. Lockyer and his wife, the former Sara Reay Murphy, were both born in England, he in Malvern, Worcestershire, and she in Whitehaven, Cumberland. Mr. Lockyer came to Canada in 1906, and he and Sara Murphy were married in 1912 in Roslyn, Washington. They resided in Bellingham, Washington, and then moved to Cypress Street in the Kerrisdale district of Vancouver where they lived for 21 years. Mr. Lockyer worked for North American Life Insurance for more than 30 years. After their retirement, they came to Langley in 1951 and purchased the farm from the Greer family, who had originally bought it from Joe Gibson (Langley auctioneer). The Lockyer named the farm "Pleasantdale" because that was the name of Mr. Lockyer's family home in England. They had a thriving dahlia business for many years and developed new strains of dahlias. A stream ran through the property providing water for a pool at the base of the hill. The property was sold to the Langley School District in 1966 for $35,000. 
The Langley School District starting planning for a new junior high school on the site in the late 1960s. The school was slated for completion in September, 1969, but was delayed by the refusal of the provincial government to approve the gymnasium and the costs. It was further delayed by a cement workers' strike. In the meantime, the students were on shift at Langley High School for 1969-70 and then at Fort Langley Junior for the fall of 1970. Eventually, in 1970, the school was completed at a cost close to $800,000. 
Students, teachers, and equipment moved in to the completed school on October 30, 1970, and classes commenced on November 2,1970. The first open house was held on April 29,1971, and the school was officially opened by Minister of Education Donald Brothers on April 30,1971. The school included grades 8 to 10 with the senior students going to Langley Secondary for their last two years of high school. The main feeder schools were Alice Brown, Blacklock, Simonds, and Uplands. 
The first staff of H. D. Stafford Junior Secondary (1969-70) was as follows: Principal John McTaggart, Vice Principal Don Neumann, Counsellor Kiyo Hamade, Carol Edwards, Norma Eirod, Sue Dunham, Rod MacKinnon, Gordon Reimer, Ross Gillanders, Nancy McMillan, Eric Sandstrom, Mabel Reusch, Ann Sheehan, Rosa Norman, Robert Vermette, Ann Marie Phillips, Peter Beckett, and Al Maclean. Other staff members in 1970-71 were G Arnell, J. Einarson, L. Galpin, K. Maclean, S. Miesk, A. O'Connor, G. Parlee, and J. Shindal. The first student council president was Tim Newcomb. 
The school was named after Harold D. Stafford, who retired in 1969 after a nineteen-year association with Langley School District as Inspector of Schools, Administrative Officer, and later as Chief Executive Officer of the Board. Mr. Stafford graduated from the University of Alberta, taught for fourteen years in elementary and superior schools and then moved to the Department of Education. He was active in a variety of professional and community organizations, including the Canadian Education Association, the Canadian Association of School Superintendents, the Canadian College of Teachers, Phi Delta Kappa, President of the BC Association of School Superintendents, honorary associate member of the BC Teachers' Federation (BCTF), and District Governor of District 504 in Rotary International. He passed away in early 1980, but his family has continued to attend the H. D. Stafford Awards Ceremonies to present the top academic "Laurels" award. 
H. D. Stafford ran at peak capacity with 600 students until the early 1980s when it was decided to turn H. D. Stafford into a full secondary school with grades 8 to 12. H. D. Stafford has had several additions over the years: 1971-west end 2-storey wing; 1974-N.W. Room shop wing; 1975-N. W. Art room shop wing; 1994-Expansion. The number of classrooms in 2001 is as follows: standard (14), science (4), home ec (2), shops (2), gym (1 full, 1 small), library, cafeteria, drama (2), band, computer (2), and art room. The basic building is concrete block with concrete columns, beams, aluminium windows, exterior concrete blocks, and asbestos panels in the interior. The fence is galvanized chain link with a wood fence on the south. There are two irrigated fields and two tennis courts. Langley City sewer and water is used. 
Principals over the years have included John McTaggart, Percy Pavey, Les Dukowski, and Harold Krische. In 2004 the principal is Wendy Johnson. The total enrolment in 2004 is 624 students, plus 45 international students. The school is semestered. The four feeder schools are Uplands, Blacklock, Simonds, and Alice Brown. H. D. Stafford has developed many innovative and outstanding programs over the years. Instead of the usual Student Council, H.D.S. has a "Student Voice" program, with a focus on student leadership, activities, and exchanges with other schools. H.D.S. was the site of the first district International Student Program in 1990. They now have between 50 and 75 foreign students at the school each year. The Alternate Education Program is for students in jeopardy. It caters to the differing learning needs of the students. They also have a Student Advisory Program and a Student Portfolio Program which all grade 12 students must have before graduating. This program includes an interview with a business person from the community for each student. Their mathematics program which requires 180 hours (1 Vz years) in Mathematics 11 has gained solid results for Mathematics 12 students. 
In partnership with the BC Institute of Technology (BCIT), H.D.S has developed a Computer Systems Service Technician program which emphasizes a hands-on approach to training, where experience gained in labs and classrooms can be applied directly to business and industry. This program which commenced in September, 2002, at the H.D.S. campus provides graduates from H.D.S. with a 40-week program to gain the technical and practical skills necessary to obtain entry-level positions in the area of computer information technology. Year Two of the program continues at BCIT. The advantages for the students are that they incur no travel costs and get the first year courses at no cost except for books and supplies. 
Navigation Links for History of Langley Schools Section
Click on the following
or
Return to LRTA Web Site's Home Page