D. W. POPPY SECONDARY SCHOOL D. W. Poppy Secondary, which is located at 23752 - 52 Avenue, was named after David William (Bill) Poppy and his father, David William Poppy (1861-1957), who came to Canada in 1883 from Norfolk, England. 
D. W. Poppy Senior was hired by the C.P.R to work west across the prairies on a survey gang laying out cities. He worked on Vancouver Island splitting rails and was in charge of several hundred Chinese labourers who were building the Esquimalt & Nanaimo Railway on Vancouver Island. 
In 1886 he made application for a homestead (160 acres) at Otter, where he built a home. He and his wife, Sarah Best, had three children—David William, Arthur James, and Elizabeth May. In addition to farming and logging, Mr. Poppy was active in the community and served for fifty continuous years in some form of public office. 
He was Reeve of Langley from 1908 to 1913 and again from 1918 to 1932. He was also Postmaster for 24 years, Justice of the Peace for 49 years, Magistrate for 11 years, as well as School Trustee, Councillor, and Police Commissioner. He was the first President of the Fort Langley District Board of Trade in 1910.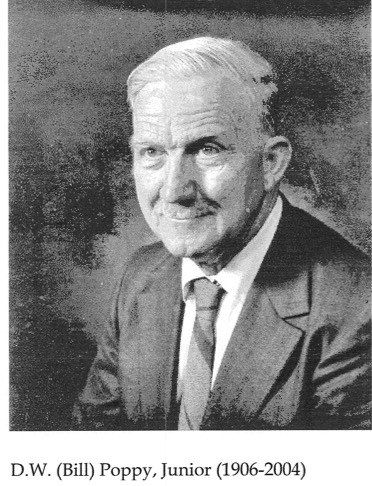 David William Poppy Junior was born on the family farm at Otter on October 23,1906, and graduated from Langley High School in 1924. He remained on the farm after graduating and eventually took charge of running it. He and his brother grew certified seed potatoes and raised sheep and dairy cows. 
He was also librarian for the Otter Women's Institute Library at Otter Hall which became part of the Fraser Valley Library system. Bill was one of the organizers for the Otter Berry Growers and an auditor for the Otter Farmers' Institute. He served as the Otter Farmers' Institute president for six years, vice president for six years, and director for 39 years. 
In addition to serving as Municipal Councillor from 1944 to 1955 and Mayor from 1956 to 1971, he was a charter member of the Otter Farmers Institute Credit Union which later became the Aldergrove Credit Union of which he was president and director for 29 years. 
Bill was also the first chairman of the Lower Mainland Regional Planning Board, and served on the Finance Authority and the Executive of the Union of BC Municipalities. He received the Paul Harris Award from the Langley Kinsmen and was named Freeman for the Township of Langley on Douglas Day, November 19,1990. 
Bill and Helen (McLaren) were married in Murrayville in 1948 and have four children-Roberta, Judith, David William, and James. Bill Poppy died in 2004. 
D. W. Poppy Junior Secondary (grades 8 to 10) was started in 1973, but the students remained on shift at Langley Secondary for the first year. David Watkins was the first principal, holding that position for four years. The first vice principal was Wally Eggert. There were approximately 600 students enrolled with the grade 10 students feeding into Langley Secondary or Aldergrove Secondary for their senior years. In 1975 Graham Leask became vice principal, and in 1977 he became principal with Kiyo Hamade as vice principal. 
In the first years of the school, the administration experimented with the quarter system, but presently the school is on the semester system of classes.
D. W. Poppy Secondary is situated on just over thirteen acres of land in a still-rural area of Langley. It is built of pre-cast concrete with aluminium windows. It is served by a drilled well (230 feet deep) and a septic tank system for sewage. It has five tennis courts, a floor hockey court, a basketball court, a rock dust jogging track, and three playing fields. 
In 1980 the school added a grade 11 class, and in 1982 the first graduating class, with 115 members, finished grade 12. With the change from a junior to a senior school came a doubling in the size of the structure, with the addition of senior science laboratories and other classrooms. By 1983 the school had 930 students. 
With the completion of the building program in 1982, Graham Leask was transfered to Langley Secondary and Gene McDonald became the principal. Gene McDonald was followed by Dale Halcrow, then Cam Gesy, and now Les Dukowski as principal of the school. Vice principals over the years have included Gerry Kinnie, Tom Turner, Mary Wright, Cam Gesy, Jim Kettlewell, Al McLean, Steve Shipley, and Derek Bennett. 
D. W. Poppy has always provided special emphasis in the core education areas such as English and Mathematics, an emphasis requested by parents through a survey conducted by school staff in the early 1980s. Poppy offers its students all the senior options, including academics, applied skills, and fine arts. 
The school's athletic program is comprehensive and offers sports in every season for both boys and girls in all grades. 
The music program at Poppy is outstanding with groups participating successfully in many festivals and national competitions. 
Poppy is also equipped to educate both physically and mentally handicapped students. The school has a special elevator for the physically handicapped and has integrated many mentally handicapped students into regular classes. 
School starts early at Poppy with the first class at 8:05 a.m. Buses bring in students from a wide catchment area stretching from the U.S. border to north of the Freeway. Poppy's elementary feeder schools include Wix Brown, Peterson Road, North Otter, Otter, County Line, and Coghlan. In 2004 there are 1027 students in the school plus 51 International students.

Navigation Links for History of Langley Schools Section
Click on the following
or
Return to LRTA Web Site's Home Page