Nicomekl Elementary School, the name being derived from the aboriginal term "the route to go" or "the pathway", is located at 20050 - 53 Avenue on 8.0 acres of land. It opened in 1974 with eight classrooms, a library, and an office. The first principal of the school was George Main. 
In 1975, two classrooms in the south wing and seven classrooms to the east were added along with a full gymnasium and a kitchen. An additional classroom was added to the east wing a few years later. Due to increased population growth in the area, seven portables were added to the school site in 1997.
In June, 1999, a new mascot —the Cougar— was chosen for the school. Former Nicomekl teacher, Scott Gordon, was commissioned to paint the "Home of the Cougars" mural on the north side of the gymnasium wall facing onto 53 Avenue. In early 2001, construction began on the newest addition to the school. Two specialized classrooms, 5 seminar/ program offices, and a double multi purpose room with a collapsible wall divider were added. The multi purpose room was created as a result of a partnership developed between the Langley School District and the City of Langley. This large space, as well as the gymnasium, is used by the school during school days and as community recreation space in the evenings and on weekends. This new facility was officially opened in January, 2002. The last two remaining portables were removed at this time.
 In May, 2001, Nicomekl proudly re-opened the new computer lab, which saw the school's makeshift room turned into a dedicated, high-tech computer lab, complete with 31 new Macintosh computers. 
During the summer of 2004, a new intermediate playground, paid for by the Nicomekl PAC and the school, is being added in the area behind the outdoor basketball courts. 
Nicomekl maintains a long tradition of community involvement within the school. The Big Brothers/Sisters of Langley continue their mentoring/big buddy program for students. Members of the Langley United Church and Sharon United Church have been active volunteers for the "Read to Me" program and the school's breakfast program. Nicomekl has been a pilot school for the PALS project (Parents as Literacy Supporters). Over the summer, the school offers Rhyme Time, a remedial literacy program for Kindergarten and grade 1 students. Each September, the school starts off the school year with a week of "Nicomekl Creates Community", which is an opportunity for new students, parents, and the school staff to get better acquainted. The week ends with a community barbecue, hosted by the school and the PAC. 
In the Fall of 2004, a new program called "The Roots of Empathy" will be launched as part of an overall strategy to promote tolerance and respect. In 2004, the enrolment is 305.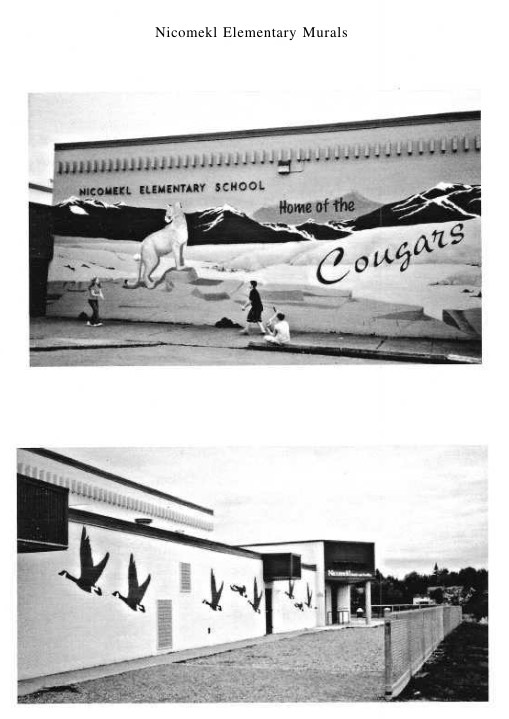 Use the following links.