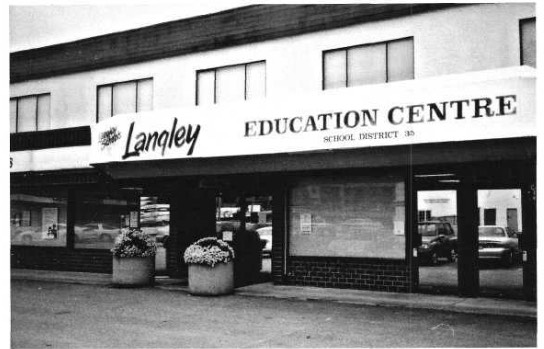 Langley Education Centre (LEC) was started in leased facilities at Sundel Square in January, 1986, by Jim Sydor, who was Director of Continuing Education in the Langley School District. The program was on a very small scale with Levels 2 and 3 of the Adult Basic Education (ABE) Program plus a few GED (graduation equivalency diploma) students. The ESL program, which had operated at the Civic Centre in Langley for many years, also relocated to Sundel Square. 
At this time Jim Sydor ran the night school programs at Fort Langley, Langley Secondary, Aldergrove Secondary, and Brookswood Secondary, but these programs were not part of LEC until 1987. After expanding the ABE program in September, 1986 and opening an Aldergrove site, the school began to offer graduation courses through the Correspondence Branch of Ministry of Education in Victoria. In September, 1987, LEC was born with the amalgamation of the ABE and grad programs which were offered at Sundel. The night school sites also became part of the program, as well as summer school. 
The original ABE staff members were Loraine Wong, Marianne McEachern, Barbara McPherson, and Nita Jacobs. When LEC was formed, the following staff were added: Bev Hansen, Walter Friesen, Glen Lawlor, Patricia Mufford, Kathleen Fitzpatrick, and secretary Heather McLean. In 1989, the first principal, Jim Kettlewell, was appointed. He was followed in 1993 by Wendy MacKinlay. In 1998, Jim Kettlewell again became principal until he retired in 2002. The principal in 2004 is Aileen Lew. 
In the 1990s, there were several institutions/colleges that operated under the umbrella of LEC. These included Langley College (at the old Anderson Elementary site), Stenberg College (which still shares computers and rooms with LEC, but operates independently), the ICCR (Intensive Child Care Resource) program which still is part of LEC, LYRC (Langley Youth Resource Centre) operated by the Salvation Army but now discontinued, and the CVTC (Campbell Valley Treatment Centre), where LEC managed the educational component of the centre for troubled youth until it was closed. LEC also ran a literacy program for many years. 
The school in 2002 had a staff of 39, with 22 teachers (secondary and ABE educators) and a support staff of 17, including secretaries, teacher aides, and others. In June, 2001, there were 1250 students, with 354.75 full-time equivalent students (because of all the part-time students attending). The funding formula which provided money from Victoria for each student was reduced in 1992, thus creating a much leaner operation. The students in 2004 number 632 regular part-time students, 216 PASS students, and 21 U-Connect. 
The school in 2002 consists of three storefront campuses: Sundel Square in Langley, Aldergrove (which operates in two rooms above the police building on Fraser Highway), and the ICCR. The Aldergrove Education Centre offers PASS and sessions for ABE, GED, and grad students. ICCR, or the Langley Community & Youth Resource Centre, is run in a separate building on 208 Street in Langley. 
A self-paced tutorial instruction program using the Pathfinder Learning system is available for part-time students to learn on their own, with teacher help when necessary. Semestered classes at the grade 11 and 12 level are offered, and students can obtain graduation status completely through LEC, or they can complete their graduation by taking needed courses at LEC. LEC continues to organize the Summer School Program for Langley, offering catch-up courses for students, as well as enrichment classes, at secondary school sites on a rotational basis. LEC also organizes the Summer International Students' Program (ISP), offering a variety of activities for International students. 
Four of the specialized programs at LEC are PASS, U-Connect, online programs, and the Child-minding program. 
In September, 1996, LEC started an innovative program called PASS, with three groups: one at Aldergrove and two at Langley. This program was for 15-17 year old students who had dropped out of regular school and wanted to complete their grade 8,9, and 10 courses. Since its inception, there has been a wait list to get into this program, and the parent evaluation surveys have shown a very positive response. There are now seven groups of students taking academic courses (math, science, English, and social studies) at their appropriate level. Many students complete grade 10 and then continue on with the adult program at LEC, return to regular high school, or enter the work force. They study at the centre four and a half days a week (either morning or afternoon) with Fridays off. Their start and break times are staggered so that not all the students are in the parking lot at one time. Ray Melnyk has been the vice principal in charge of the program since its inception. 
The U-Connect program was set up to support parents who are home schooling their children at the secondary level. The program offers assistance in understanding learning outcomes, and in evaluation of learning. With computers at home, the students communicate with LEC via email. LEC also offers in-service for students who are studying topics they can't do at home, such as electricity labs. Group activities provide workshops on such topics as writing skills and provide some socializing skills for the students. There are between 20-30 students on the program, mostly at the grade 7 and 8 level. A newsletter is also distributed. At the grade 9 and 10 level, most home school students transfer to an alternative program, such as PASS, grad programmes at LEC, regular secondary schools, or the Fraser Valley Distance Education program. 
LEC also has 65 students who are enrolled on-line in six courses. The students work at home, email their work to teachers, and write tests at LEC. 2002 is the second year of this program. 
In 2001, LEC started a Child-Minding Program which is financially supported by Aldergrove Neighbourhood Services who pay for the staff. At first there were 5 babies and then there were 26. The parents of these children (who range in age from infants to 3-year-olds) are able to attend classes at LEC while their children are being cared for by trained staff.
LEC is different from other secondary schools in Langley because of the age and composite nature of its learners. The continuous intake and self-paced learning provides a valuable service for students who cannot attend on a daily basis. Its four-day weeks and evening teaching help those over the age of 15 obtain an education which would otherwise be unavailable for them
Navigation Links for History of Langley Schools Section
Click on the following
or
Return to LRTA Web Site's Home Page